On 21 October, we launched a fund-raising campaign to raise additional funds for our trip. Using some of the loveliest pictures we have taken so far, we put together a calendar that should brighten the spirits of any poor, overworked soul looking at it.

And we were super-astonished by the support we received.
We would like to thank all those who supported us, with special shoutouts to the following people:


1) Zen, for giving us the idea way back in July. Thanks to you, we got a poll going early and found that this was a workable idea!
2) Ivan, for being the first person to order. You really got the ball rolling!
3) Those who shared the link with their friends on Facebook: Dad, Debra, Gerald, Evonne, Sue Anne, Tracy, Ada, Eeping, Nellie,

I hope I didn't miss anybody...
if I did, let me know and I'll add your name here too!
4) Those who blogged about it:
Tracy
(again),
Ada
(again)

5) Those who broadcast the calendar sales on other forums: Willie

6) Both sets of parents, for the large order quantities - special, special mention to my mum, who generously paid a premium for her order

7) Daynia, who will be helping ensure a large chunk of the orders will be properly distributed
In total, we had orders from 49 people for about 100 calendars!


Thank you thank you thank you thank you thank you!

To be honest, we had set ourselves a very modest target of 30 calendars, and were all prepared to think of other ways to raise more funds after this first campaign. But now, we can set that aside and concentrate on exploring more of what the Americas have to offer, and bringing you more stories of our escapades!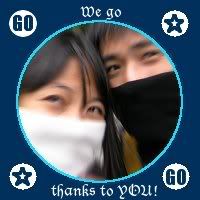 We will be taking a few more tours that we otherwise would not be able to. For blog posts where we mention these tours, we will be also putting a special logo on the entry, so look out for these special entries!