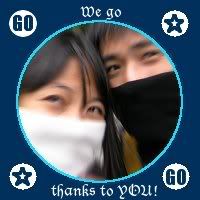 Retirement is a phase in life that everyone talks about and looks forward to attaining. That's supposedly when you finally have all the time at your fingertips to do whatever you want, whenever you want, wherever you want. Like travel the world.


However, one of the key reasons why we decided to do this long trip sooner in life rather than later was that we are now in the pink of health, making it easier for us to handle the physical assertions of a long backpacking trip. Okay, so maybe we're not as pink as when I was clearing hurdles on the track at 17 or when Dan was jumping out of planes in the army, but it's relatively easier on our increasingly-creaky knee caps and near-wobbly ankles now, as compared to when we're officially in the senior citizens age category. Watching some older travelers clutch at their chests while they struggled with the endless flights of uneven stone steps amongst Peruvian ruins a few months ago, I felt really glad to be touring South America now, and not 40 years later.


(That said, there are exceptions to the Young Is Better Than Old rule. We just met a Japanese man in Ushuaia who was waiting to board a ship to Antarctica. He insisted on showing me a neverending slide show of ALL the photos on his laptop. He also had the funkiest-smelling feet EVER. But he rocks - cos he just scaled the summit of Mount Kilimanjaro earlier this year. He is 75 years old.)


The other reason for wanting to travel NOW NOW NOW:
kids
. Or rather, the lack of them. When we were planning for this trip 2 years ago, the idea of traveling with children seemed impossible. IMPOSSIBLE. In fact, people our age with kids were confirming this perception and encouraged us to travel all we could before starting a family.


Along the way, we have met a few young couples who, like us, took a year off work to travel South America and the world. The main difference is - they are doing it with at least 2 young kids in tow. And as I watch them from the sidelines, instead of gloating "thank god we're not traveling with kids", I find myself thinking "hey, it's actually
doable
... gosh." And I respect them for their commitment to their dream and having the courage to take on the challenge of traveling as a family.


We spent a day exploring the Torres del Paine national park with a French-German couple and their 2 children - 10 year-old Lea and 5 year-old Cedric. We had all disembarked from the Navimag ship and were staying at Hostel Paulette in Puerto Natales.


The Valois are on a year-long round-the-world trip which started in June this year. Jim (the father) explained that they had spent a year and a half planning and preparing for this big trip. Together with his wife Gaby, they took the kids out of school and spend a good part of each day rigorously taking each child through the school syllabus - all 10 kilograms worth of it. They teach the children French, English and Mathematics. Through tours and excursions, they learn Science, History and Geography.


While Cedric tore through the forests and beaches ahead of everyone else, Lea preferred to hang back and walk alongside Dan and me. I initially wondered what I should talk about to a 1o year-old, but Lea was incredibly accustomed to conversing with adults and chatted easily about school, countries the family had visited, their home in France, etc. She casually asked about our travel itinerary, our favourite colours and what sports we do, occasionally running ahead to ask her father to translate words from French to English when she got stumped (which was not often at all.)

As we walked along the trail, she stopped to pick some bright green lichen off the tree trunks and proceeded to enlighten us on the relationship between the colour of the lichen and the level of pollutants in the air! I was partly amazed at how comfortable she was with us, and partly touched that she chose to be in our company instead of clinging to her parents (which I did alot when I was 10!)


The best thing about exploring the park with kids, was learning to explore a place like a kid again.
We perused the beach for the prettiest souvenir pebbles with them. We hopped and skipped along trails. We balanced on slippery ice blocks with our arms outstretched. We spotted icebergs floating in the bay and started racing one another towards them.


When we reached a long pebble beach that offered a faraway view of the Grey Glacier and a sea filled with large icebergs, Dan and I automatically whipped out our cameras and started snapping the scene from all angles, as we followed the coastline mechanically, just plodding along, 1 foot after another.


Halfway across the bay, we realised that Lea was no longer walking with us. We looked up to see her sitting on a pile of pebbles in our wake. She beckoned to us to go over. I groaned inwardly, thinking that she must have sprained an ankle while skipping across the uneven surface of the pebbly beach. When we got there, she simply pointed across the bay towards the glacier. My first reaction was to say "yeah, I know, that's the glacier."


But Dan looked at the scene and understood at once what she was trying to show us. "She's right," he said, "This is the best spot along the beach to photograph the view." A child made us retrace our steps to see what we could not see for ourselves. But the most precious thing wasn't the scene - it was that she called us back to see what we had missed, when she could have just let us walk on blindly.


Still not quite getting that the scene she had placed before us was meant to be savoured, we pressed Lea to get up and hurry on towards the elevated lookout point at the end of the bay, where her parents were heading. She simply replied, "Could you tell my mother that I'll be here on the beach, please? Thank you." She was in no hurry to go anywhere. In her opinion, she already had the best seat in the house.


Well, kids being kids, Lea changed her mind in a split second and raced over to her parents. Together, we scaled the upward winding trail that wrapped the cliff to the
mirador.
There, Lea decided to give us an impromptu French lesson and insisted that we repeat the numbers one to ten in French correctly before she let us proceed down for lunch.


After a simple picnic lunch, where Jim and Gaby asked questions about Singapore and we quizzed them on life in France (and Lea and Cedric chased each other around on the lawn), our guide took us to a few lookout points for panoramic views of cloudy blue glacial lakes.


Check out the video that Dan created, showing footage of our arrival on the Navimag at Puerto Natales and our day at Torres del Paine. (He's getting good at this video thing - puts together clips in a jiffy!)



Early the next morning, we bid farewell to the Valois family. We exchanged website addresses for our travel blogs. Lea and Cedric even have their own pages which they update with text and photos on the
family's trip website
! Lea gave me her email address (yes, she was busily replying mails on her Gmail account in the hostel) and was delighted when I presented her with a list of the numbers one to ten in Chinese.
Everyone was really glad that we had gone to Torres del Paine the day before. Cos looked what happened overnight!


I used to think that I had to choose between starting a family and traveling the world. That it was either one or the other. That backpacking with children was a crazy notion, much less backpacking in South America with them. That children were obstacles to travel.

But
they are not.


This is what traveling does. It opens your mind to new possibilities. That are all certainly
doable.